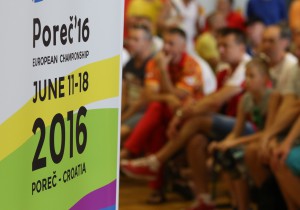 The ESBA Championship in Poreč finished last week and went into history as the biggest event in ESBA history to date. A total of 49 teams competed in 12 different age categories, with a 3×3 Tournament and Spalding Three-Point and Free-Throw Shooting Contest also taking place.
During the championship, Lithuania and Russia stood out from the rest as the countries with the most success. Lithuanian teams won four gold medals, four silver medals and two bronze medals, while Russian side also triumphed in four different categories, claiming second place in two and finishing third in four age groups.
Ukraine finished third in the medal standings with one gold, one silver and two bronze medals, while Czech Republic and Germany had one champion team each. Estonia and Latvia also stepped on the podium with one silver medal each.
In the 3×3 Poreč'16 Open, teams from Czech Republic, Lithuania, Russia and Ukraine claimed victories in different age categories. Representatives from Czech Republic, Lithuania, Russia, Slovenia and Ukraine also won the various age groups in the Spalding Shooting Contests.
Also, it was announced that the next ESBA Championship will be held in the Spanish city of Santander in 2017.
M40

1st: UD (Ukraine)
2nd: Small Planet (Lithuania)
3rd: Legion (Russia)
MVP: Volodymyr Gurtovyy (UD)
Points: Ricardas Macelis (KSK Kaunas) – 22.5
Rebounds: Giedrius Zabulionis (KSK Kaunas) – 11.5
Assists: Dmitry Usanov (Legion) – 5.5
M45
1st: Patvanka (Lithuania)
2nd: Project 44 (Russia)
3rd: Basketclub (Russia)
MVP: Ramunas Juska (Patvanka)
Points: Arvydas Venclovas (Patvanka) – 21.0
Rebounds: Sergey Ivanov (Project 44) – 11.3
Assists: Ramunas Juska (Patvanka) – 5.0
M50
1st: Bitsa-Team (Russia)
2nd: Parnu (Estonia)
3rd: Dinamo (Russia)
MVP: Sergey Ivanov (Bitsa-Team)
Points: Aleksei Ugriumov (Dinamo) – 18.0
Rebounds: Saulius Kriksciunas (KTU Omega) – 11.3
Assists: Sergey Ivanov (Bitsa-Team) – 7.8
M55
1st: Salilita (Lithuania)
2nd: Garkalne (Latvia)
3rd: KFU Gorod Kazan (Russia)
MVP: Vladas Luksa (Salilita)
Points: Drasko Kunic (KK Umag) – 25.7
Rebounds: Drasko Kunic (KK Umag) – 16
Assists: Arunas Sarka (Salilita) – 9.4
M60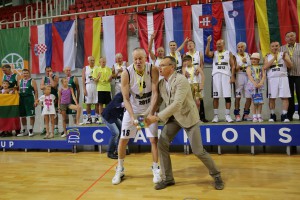 1st: Mercury (Russia)
2nd: Lietuva (Lithuania)
3rd: Ranga (Lithuania)
MVP: Alexander Kharchenkov (Mercury)
Points: Timur Yunusov (Mercury) – 22.4
Rebounds: Rasid Abeljanov (Lietuva) – 13.2
Assists: Alexander Kharchenkov (Mercury) – 7.4
M65
1st: CSKA Veterans (Russia)
2nd: Vilniaus Statybos Senjorai (Lithuania)
3rd: Big Game (Ukraine)
MVP: Igor Sakharnov (CSKA Veterans)
Points: Igor Sakharnov (CSKA Veterans) – 12.3
Rebounds: Victor Petrakov (CSKA Veterans) – 13
Assists: Igor Sakharnov (CSKA Veterans) – 5.3
M70
1st: Vilniaus Statybos Senjorai (Lithuania)
2nd: Russia (Russia)
MVP: Juozas Rimkus (Vilniaus Statybos Senjorai)
Points: Sergey Naidenov (Russia) – 18.8
Rebounds: Juozas Rimkus (Vilniaus Statybos Senjorai) – 8.8
Assists: Marijonas Zinkevicius (Vilniaus Statybos Senjorai) – 1.8
M75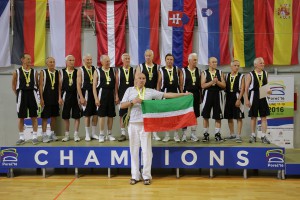 1st: Kazan (Russia)
MVP: Vladimir Zagliadimov (Kazan)
Points: Vladimir Zagliadimov (Kazan) – 12.0
Rebounds: Vladimir Zagliadimov (Kazan) – 6.8
Assists: Oleg Bolshakov, Rinard Urazmanov (both Kazan) – 2.5
W40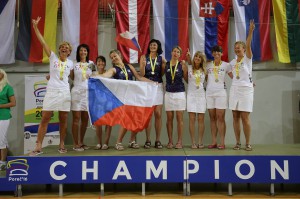 1st: Best of Havirov (Czech Republic)
2nd: Carpathian Bears (Ukraine)
3rd: Radviliskis (Lithuania)
MVP: Jana Hradilova (Best of Havirov)
Points: Sona Simkova (Best of Havirov) – 18.3
Rebounds: Tetyana Yasicheva (Carpathian Bears) – 12.5
Assists: Jana Hradilova (Best of Havirov) – 5.8
W45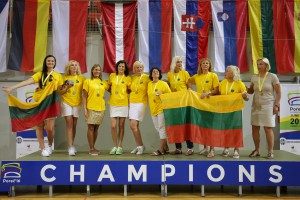 1st: Augma (Lithuania)
MVP: Asta Siksniene (Augma)
Points: Asta Siksniene (Augma) – 9.3
Rebounds: Elvyra Muradova (Augma) – 5.7
Assists: Elvyra Muradova (Augma) 2.0
W50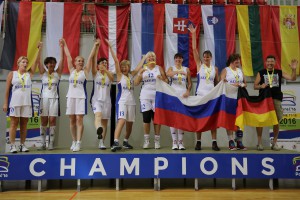 1st: Maximum International (Russia, Croatia, Germany)
2nd: Kamane LT-Augma (Lithuania)
3rd: Ladies Legion (Ukraine)
MVP: Ekaterina Loginova (Maximum International)
Points: Olga Macovchina (Ladies Legion) – 20.8
Rebounds: Olga Macovchina (Ladies Legion) – 11.8
Assists: Linda Dreimane (Amber Latvia) – 3.7
W50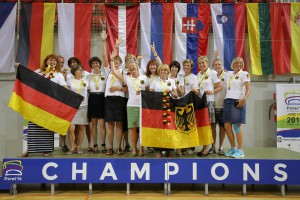 1st: Ladies Germany (Germany)
MVP: Heike Schonau (Ladies Germany)
Points: Heike Schonau (Ladies Germany) – 8.3
Rebounds: Heike Schonau (Ladies Germany) – 6.5
Assists: Heike Schonau (Ladies Germany) – 1.3