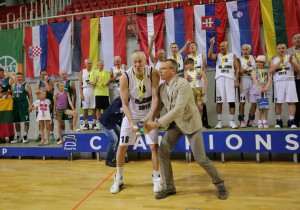 Russian side Mercury defeated Lietuva for the second day in a row and claimed M60 gold, finishing the ESBA Championship without a single loss. After defeating the Lithuanian side by only four points in the round robin stage, Mercury left their opponents no chances in the final.
The team from Yekaterinburg celebrated a 73-45 victory in the final day of the championship, behind 26 points of Andrei Snytsin. Timur Yunusov collected 14 points, while Alexander Kharchenkov finished the game with 12 points.
Leading the age category in efficiency, Kharchenkov claimed the MVP award.
For Lietuva, Rasid Abeljanov had a team-high 16 points and added nine rebounds. Edmundas Narmontas and Ivar Raig collected seven points apiece.
Ranga from Lithuania claimed third place, having finished third in the standings with a 2-2 record. Babailar finished fourth, while Basket Prague Selection was fifth in the M60 category.