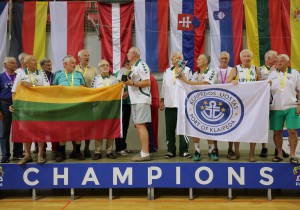 Lithuania and Russia shared the honors in the two most senior categories of Poreč'16, as Vilniaus Statybos Senjorai won the M70 crown and Kazan lifted the M75 trophy.
On the final day of competition, Lithuanian side Vilniaus Statybos Senjorai defeated Russia 44-30 in the decisive game of the M70 age category. A loss would have meant that Russia would have passed the Lithuanian side in the standings.
Marijonas Zinkevicius finished the game with 16 points and 11 rebounds for the winners, Vytautas Majauskas scored eight points and collected eight rebounds.
Juozas Rimkus was chosen as the MVP of the M70 category.
Meanwhile, Kazan was the only team in the M75 category and competed alongside M70 teams.  Vladimir Zagliadimov claimed the MVP award in this age group.