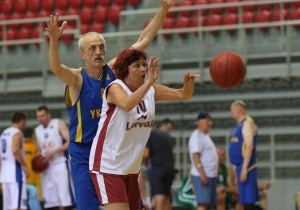 For the better part of Tuesday morning, 3×3 Poreč'16 Open took center stage at the Žatika Sports Center, as basketball veterans from all around Europe competed for the best triplet titles in five different categories.
Teams from Czech Republic, Lithuania, Russia and Ukraine triumphed in different age groups, with the Russian teams winning two different categories.
In the W40+ category, Best of Havirov from Czech Republic went undefeated to take the crown. Small Planet from Lithuania outclassed the field in the M40+ category, while Arsenal Tula from Russia came out victorious in a three-way tie in the M50+ category.
CSKA Moscow from Russia won all of their games in the M60+ category and celebrated yet another victory in an ESBA event.
Meanwhile, Koshki from Ukraine took home the Mixed 50+ competition crown. It was the first time when a mixed 3×3 competition was held at an ESBA Championship and it proved to be success, with the category being by far the most popular one among teams.