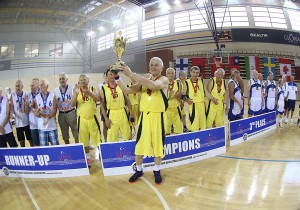 Kazan defeated Estonian side Sameko in the final day of action at the ESBA Championship in Belek to claim gold in the M70 category. The Russians pulled away in the fourth quarter and squeezed through to take a 36-32 win, that saw them improve to a 3-1 record.
Second-placed Nevsky Veterans finished with a 2-2 record, while Sameko, who had a chance to move with a win over Kazan, had to settle for bronze with a 1-3 record.
Rinard Urazmanov, who was chosen as the MVP of the M70 category, was the go-to man for Kazan once again with 13 points and three very important three-pointers. He also had six rebounds.
Vladimir Krivoruchenko had 11 points and nine boards for the Russian team, Vladimir Zagliadimov added 10 points and nine rebounds.
For Sameko, Peeter Kokk had 13 points, with Enn Uusar adding eight points and six rebounds.