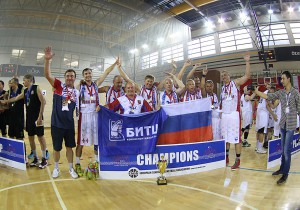 Bitsa-Team from Moscow had no trouble against Dinamo Kursk, winning the Russian duel in the M50+ final 79-54. The Muscovites, who also won the first game in the regular round, cruised home with a win, dominating right from the opening quarter.
Aleksandr Egorov led the winners with 22 points, Mikhail Borisov scored 19 points and grabbed 10 rebounds, while Andrei Trushkin finished the game with 16 points and nine boards.
Borisov was awarded the MVP prize of the M50 age category.
For Dinamo, Sergei Nokov was the only scorer in double figures with 13 points.
Perlas claimed third place in the age category after defeating Krivbass Tonus Veteran UA 75-48 in the bronze-medal game.
Saulius Kriksciunas had 21 points for the winners and 15 rebounds, Eugenijus Kaziliunas collected Arvydas Venclovas scored 16 points.
Andriy Berezhynskyy was the top scorer for Krivbass with 20 points and nine rebounds.