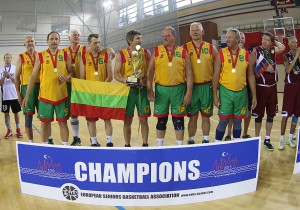 Lithuanian team Salilita did not receive much of a challenge in the M55 age category final, defeating Estonian side TOP Trust 83-47, with Rolandas Penikas, who was named the MVP of the age group, leading the way with 30 points and 13 rebounds.
Vytenis Urba scored 21 points, while Arunas Sarka flirted with a triple-double, finishing the game with 15 points, nine rebounds and nine assists.
Andrus Toom was the only scorer in double figures for TOP Trust with 22 points.
Meanwhile, Auto-Queen won bronze after defeating Izmir Veterans 66-51 in the game for third place. Igor Krylov led the Russian team with 16 points and 11 rebounds.