Just a couple of days have passed since we finished the ESBA Championship in Santander. There were a total of 11 age categories with 24 teams participating, with a 3×3 tournament and a three-point and free-throw shooting contest also taking place.
Russian teams had the most success, as they raked in a grand total of 7 sets of gold medals, while teams from Ukraine, Latvia, Spain and Lithuania all took home one set each.
Go4champ's Nicola Telkamp was unbeatable in the three-point contest, as she won the W40 category by a landslide, getting 16 points. Grazvyda Narusiene took first place in the W50 category with 9 points, as Juriy Kolobov had 16 in the M40 age group. Andrian Morozov finished first with 13 points in the M50 three-point shooting final, while Jury Propadeev won the M60 category with 11 points. The M70 age group competed in a free-throw shooting contest, where Anatolii Kukushkin took first place with 7-of-10 shooting.
Besides the regular five-on-five basketball, a 3×3 tournament was also played in Santander. The tournament was divided into two groups, Mixed 45+ (2 ladies and 2 men per team; 2 ladies, 1 man on the court) and Men 50+. Carpathian Bears easily took gold in the Mixed 45+ group, while Kalush I enjoyed success in the Men 50+ division.
It was also announced that the next ESBA Championship would take us back to Croatia, as Pula was selected as the host city for ESBA'18.
M40
1st: UD (Ukraine)
2nd: Veteranos Torrelavega (Spain)
3rd: Interwood (Russia)
MVP: Dmytro Briantsev (UD)
Points: Dmitry Dzhindzholiya (BC Sukhum) – 24.0
Rebounds: Raul Respuela (Veteranos Torrelavega) – 16.2
Assists: Jorge Rosino (Santander) – 7.0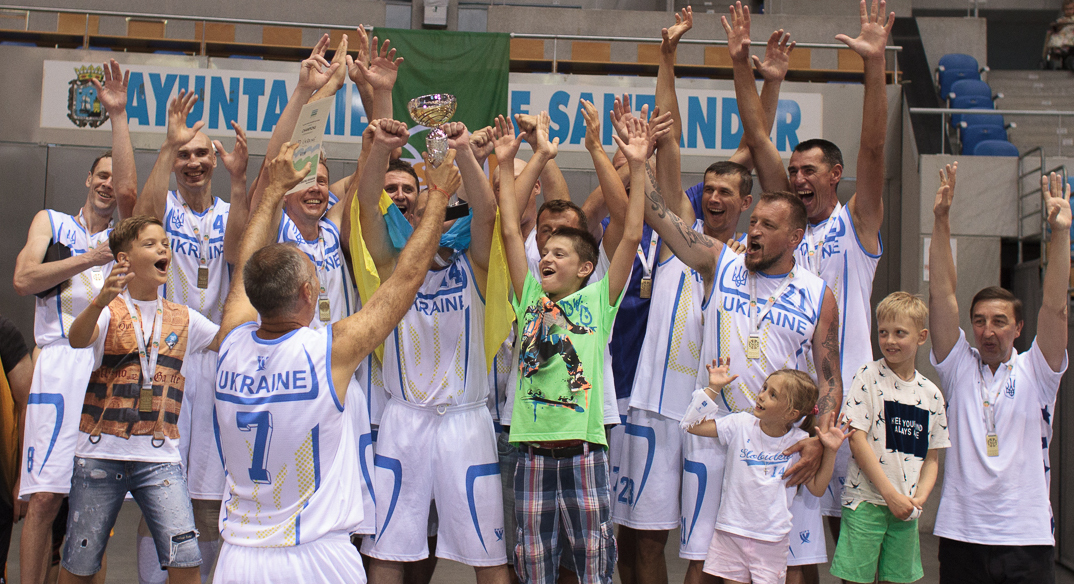 M45
1st: Interwood (Russia)
2nd: Basketclub (Russia)
MVP: Khalit Vagapov (Interwood)
Points: Maksim Susloparov (Interwood) – 15.4
Rebounds: Aleksandr Chapkii (Basketclub) – 11.3
Assists: Khalit Vagapov (Interwood) – 6.4
M50
1st: Dinamo (Russia)
2nd: Mercury-Kazan (Russia)
3rd: Omega Kaunas (Lithuania)
MVP: Aleksei Ugriumov (Dinamo)
Points: Arvydas Venclovas (Omega Kaunas) – 25.5
Rebounds: Viacheslav Korolev (Great & Co) and Aleksei Ugriumov (Dinamo) – 10.0
Assists: Valerii Iaichun (Dinamo) – 8.3
M55
1st: KFU Gorod Kazan (Russia)
2nd: Aladushkin Group (Russia)
3rd: Russian Project (Russia)
MVP: Vadim Shvetsov (KFU Gorod Kazan)
Points: Valerii Sergeev (Aladushkin Group) – 23.0
Rebounds: Vadim Shvestov (KFU Gorod Kazan) – 14.8
Assists: Oleg Portnyagin (Russian Project) – 6.3
M60
1st: Babailar (Russia)
2nd: Ranga-Statyba (Lithuania)
MVP: Aleksandr Trubach (Babailar)
Points: Aleksandr Trubach (Babailar) – 18.0
Rebounds: Juras Sadovnikovas (Ranga-Statyba) – 10.4
Assists: Vitoldas Masalskis (Ranga-Statyba) – 5.3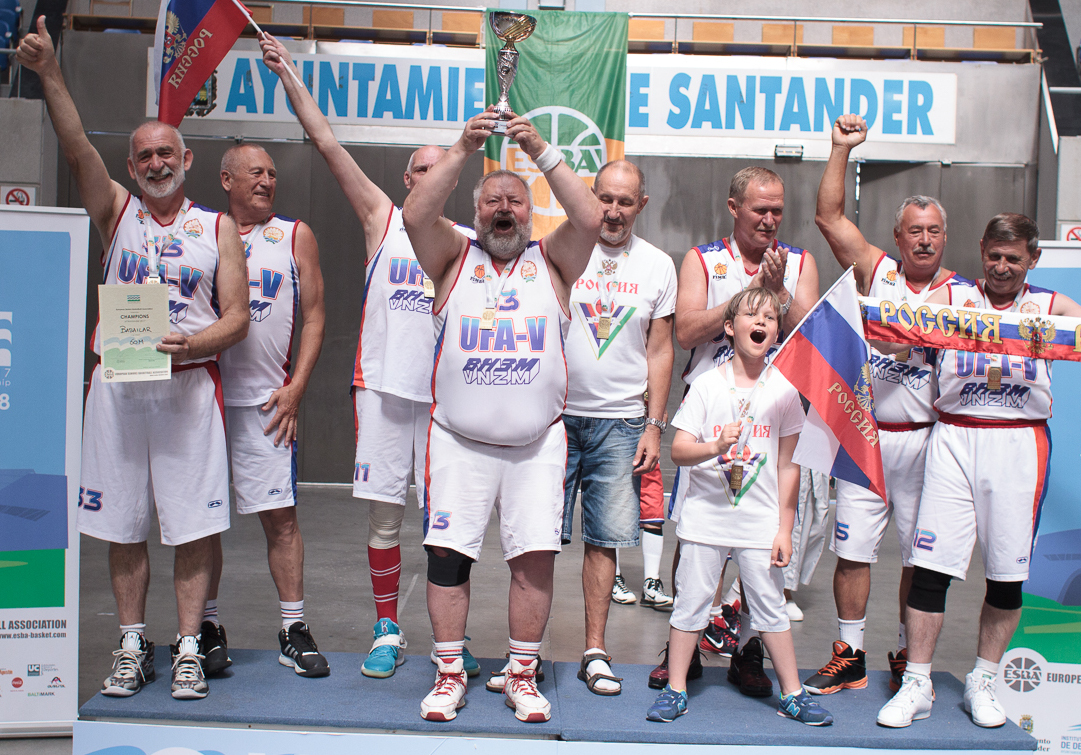 M65
1st: CSKA Veterans (Russia)
2nd: Vilniaus Statybos Senjorai (Lithuania)
MVP: Victor Petrakov (CSKA Veterans)
Points: Boris Nefedov (CSKA Veterans) – 15.8
Rebounds: Victor Petrakov (CSKA Veterans) – 13.8
Assists: Igor Sakharnov (CSKA Veterans) – 6.0
M70
1st: Kazan (Russia)
MVP: Valerii Tashchilin (Kazan)
Points: Vladimir Zagliadimov (Kazan) – 10.5
Rebounds: Valerii Tashchilin (Kaan) – 9.8
Assists: Rinard Urazmanov (Kazan) – 2.5
W40
1st: AMIDE Basketball Friends (Spain)
2nd: Seduvos Malunos (Lithuania)
MVP: Ana Pombo (AMIDE Basketball Friends)
Points: Renata Radisauskaite (Seduvos Malunos) – 12.0
Rebounds: Yolanda Rodriguez (AMIDE Basketball Friends) and Solveiga Liesiene (Seduvos Malunos) – 8.0
Assists: Ana Pombo (AMIDE Basketball Friends) – 3.7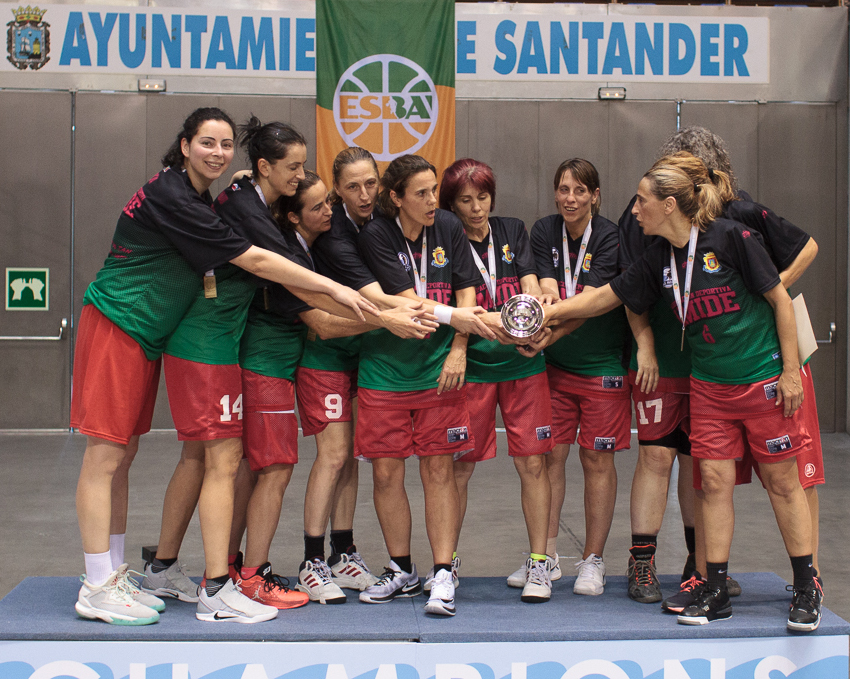 W45
1st: BC Svaja (Lithuania)
2nd: go4champ (Germany)
MVP: Jolanta Jurciuviene (BC Svaja)
Points: Sussane Pflueger (go4champ) – 11.3
Rebounds: Tetiana Kobzar (Augma) – 11.7
Assists: Sabine Schwazlmueller-Lahtz (go4champ) – 5.0
W50
1st: Maximum International (Russia, Croatia)
2nd: Koshki (Ukraine)
MVP: Tatjana Susnica Relic (Maximum International)
Points: Olga Macovchina (Koshki) – 21.5
Rebounds: Ekaterina Loginova (Maximum International) – 9.5
Assists: Irina Terenina (Maximum International) – 6.0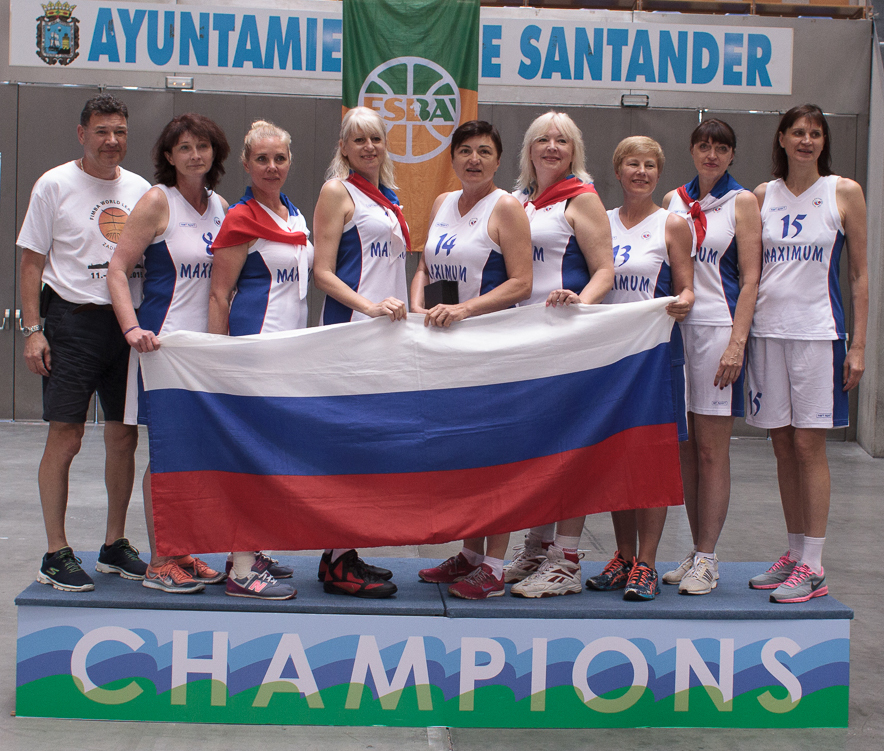 W55
1st: Zeltenes Latvia (Latvia)
2nd: Kamane (Lithuania)
MVP: Lorita Sausa (Zeltenes Latvia)
Points: Lorita Sausa (Zeltenes Latvia) – 17.3
Rebounds: Zita Vilnone (Kamane) – 11.5
Assists: Sarma Lazdina (Zeltenes Latvia) – 3.0