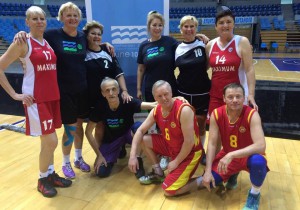 Besides the regular five-on-five basketball, a 3×3 tournament was also played in Santander. The tournament was divided into two groups, Mixed 45+ (2 ladies and 2 men per team; 2 ladies, 1 man on the court) and Men 50+.
MIX 45+
6 teams played in the MIX 45+ group, with it being divided into two groups by a draw. Group A consisted of Koshki/LDK, Tula and SPB, with Tula. Koshki/Odesa, Mercury/Maximum and Carpathian Bears met in Group B. Games were held on two courts at the same time, with the first seed advancing straight to the finals.
Group A
Koshki/LDK vs Tula 3-12
Tula vs SPB 7-4
Koshki/LDK vs SPB 2-11
In Group A, Tula was the clear favorite, defeating Koshki/LDK 12-3 and SPB 7-4. In the game for the second place in the group, SPB easily defeated Koshki/LDK 11-2 and advanced to the bronze final as the second-seeded team.
Group B
Koshki/Odesa vs Mercury/Maximum 10-8
Mercury/Maximum vs Carpathian Bears 9-11
Koshki/Odesa vs Carpathian Bears 8-11
Group B was much more competitive and all three games went down to the wire. However, Carpathian Bears managed to win both games, against Koshki/Odesa 11-8 and against Mecury/Maximum 11-9, and took the first seed in the group. The deciding game for the second seed was won by Koshki/Odesa 10-8, as Mecury/Maximum were very unfortunate to finish last in Group B.
The second-seeded teams played for Bronze and it was SPB from Group A dominating here. They defeated Koshki/Odesa 11-2 and also earned a podium finish.
The final was full-out dominance by the Carpathian Bears, who easily took an 11-3 win against Tula and earned the first place after winning all their games.
MEN 50+
Kalush I vs Kalush II 11-3
Tula vs Kalush I 7-8
Tula vs Kalush II 12-8
There were only 3 teams played in the 50+ 3×3 age group, with the Kalush side delegating two of those teams. Victory was on their side, as Kalush I first defeated Kalush II 11-3 and followed it up with a narrow 8-7 victory against Tula, ensuring the title goes to them.
The game that decided the second place between Tula and Kalush II was just as exciting, but Tula did manage to go out on top and earned second place in the Men's 50+ category, whereas Kalush II finished third.