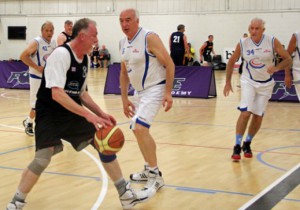 The World Masters Games is an international multi-sport event held every four years which, in terms of competitor numbers, has developed into the largest of its kind. The 2017 World Master Games will take place in Auckland, New Zealand and basketball will be one of the 28 sports. Here is an interview with British Masters Basketball Association Chair Bill McInnes, prepared by our friends at WMG with whom we share our passion for veteran sports.
The growth of Masters Basketball in Britain and across the world is opening up opportunities for players and teams to connect across countries and continents, according to British Masters Basketball Association Chair Bill McInnes.
The former player and team captain, who represented Scotland and Great Britain on 175 occasions during his playing career and is Chair of the British Basketball Federation, told The World Masters Games that the scene is growing in popularity.
"The game never stops. In Britain, basketball has a high level of 'street' credibility, and international Masters Basketball is definitely expanding," McInnes said.
"We are encouraging our members to tell us about where they are going around the world, as individuals and teams, so that further links can be established with a wider network of players and groups.
"Teams regularly travel abroad from Britain, and they have a great time from a playing and social perspective. That side of the sport is only going to grow, and there are Masters teams and tournaments in many countries now."
The flagship GB Masters Basketball event, which was established in 1995, is underpinned by a committed team of volunteers and provides opportunities for basketball participation for women over the age of 35 and men over the age of 40.
McInnes spearheaded the recent 2015 GB Masters Basketball tournament in Leeds on June 20-21 which attracted a record number of teams – up from 52 to 59 year-on-year.
"It was very informal when it started out 20 years ago with just a handful of teams at the first annual tournament, but it has expanded over the years," he added.
"This is a team sport that allows people to carry on playing and promotes wellbeing and activity. As we saw in Leeds again, the players have not lost their competitive edge, but it is also a great social event.
"There is a mixture of players now. A lot of them used to play internationally, but there is also a range of other abilities. Many of the players at our annual event also play in local leagues.
"People who are interested should have a look at our website – www.gbmasters.org – for more information."
The countdown is on for the 2017 World Masters Games in Auckland, New Zealand where basketball will be one of 28 sports taking place across 45 competition venues.
In Auckland, the basketball tournament will be split into three grades of premier, competitive and recreational competitions for men and women, ranging from over 30s to over 70s in the competitive category.
At the recent Leeds event, participants competed in seven different age categories and about 600 players, officials and staff took part.
The ability to accommodate different age group competitions – and the increasing interest in the Masters Basketball scene – is a challenge as well as an opportunity for the movement's advocates.
"Next year we are in Brighton, and obviously if too many teams apply, we will have to find a way of coping," McInnes said.
"Whereas in the beginning we had to go out and cajole cities to host the event, now we are contacted by interested parties, and that is helping us to plan for the future. We look for good rates for playing facilities as well as a major hotel and function area to host our social event.
"We have discussed possible qualifying competitions, but we also don't want to lose the social aspect of our annual event, so it's a difficult challenge. However, it's a good problem to have and it is a sign of growth."
Visit www.worldmastersgames2017.co.nz for further information about the 2017 World Masters Games.