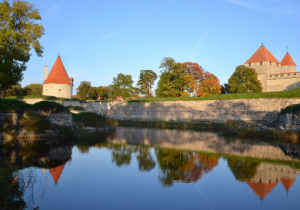 What ever brings you to the islands – you know that your everyday life will stay on the mainland, and your mind will calm down by itself. And when you leave the ship at Kuivastu port and take a direction to Muhu or Saaremaa, you know that you are here! That you are here and now the adventure begins!
Saaremaa has always attracted its guests with wildlife, history and friendly people. Add some beautiful sandy beaches and joyful culture events for a truly memorable holiday. The top 5 attractions in Saaremaa throughout the years have been:
Nowhere else can you find as many different spa hotels as on the largest island in Estonia! Perhaps, it may even be argued that Kuressaare is likely to have the highest density of spas in the world, with one spa place per ten inhabitants. And in order to enjoy the pleasures of the spas, you do not have to be accommodated there. You can just step in from the street and enjoy the pleasures of the saunas and pools. Currently, there are 8 spa hotels on the islands – 6 of them in Kuressaare.
Summers in Saaremaa are full of various events: concerts, festivals, sports competitions, workshops – take your pick! The high season of events starts with the last weekend in May with Kuressaare street festival www.kuressaarefestival.com  From there on you can find a festival almost every weekend …
Saaremaa opera days www.saaremaaopera.eu
Muhu Future Music Festival – www.juujaab.ee
Saaremaa Opera Days – www.saaremaaopera.eu
Kuressaare Maritime Days – www.merepaevad.ee
Saaremaa food festival – www.saaremaatoidufestival.ee
Throughout summer, both local people and holiday makers can enjoy folk culture events and summer music concerts in the castle park and yard as well as live music in restaurants.
Come to Saaremaa – yes, You!